Tuesday May 29, 2018 1:05 PM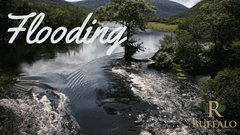 It is that time of year and flood season is upon us. With that being said, all floods are not the same. Here are two common types of floods in our geographical area and who are at risk for these types of floods.
The most common type of flooding in Southwest Montana is river flooding. It can happen at any time of the year, but is most common in the late winter and early spring due to snowmelt and heavy spring rainfall.
Who is at risk?
Homeowners who live near a river or stream, most commonly in the countryside or flood plain.
The second type of flooding is flash flooding. These are caused by a number or things, but is most often due to extremely heavy rainfall from thunderstorms. They can also occur if a dam or levee breaks. Flooding will begin within 6 hours, and often within 3 hours of heavy rainfall.
Who is at risk?
Anyone. Flash flooding is possible everywhere. Streams and creeks in a neighborhood, city streets and highway underpasses.
No matter where you live, always be cautious around flooded areas! Ensure you speak to your insurance agent on what type of coverage you have in the case of a flood.
Helpful links:
http://www.mtcounties.org/ resources/disaster-related- information/current-flood- information
http://www.mdt.mt.gov/ travinfo/scripts/rdrpt.pl? rptname=Flood+Statement