Careers at Buffalo Restoration
As a company, we operate on core values: Compassion, Integrity, Teamwork and Excellence. We are looking for individuals with the same core values to join our Herd!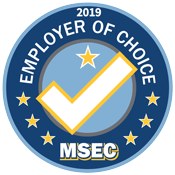 Buffalo Restoration specializes in commercial and residential disaster restoration projects, from fire and water damage to mold remediation. We are a growing family-run company local to the Gallatin Valley that has been in business for over 30 years. We have a team of handpicked professionals that follow our proven best practices to compassionately handle the uncertainty of damage to someone's home or business. In addition to our highly skilled team, we incorporate state-of-the-art equipment, fast 24/7 response time, and competitive pricing to help customers save time and money. Our team of compassionate and thoughtful professionals will not rest until you are satisfied with the finished product. At Buffalo Restoration, it's not just about fixing a problem; it's about making it feel like home again.
In 2019, we were awarded the small business employer of choice in Bozeman and the State of Montana Job Services. If you want to work for a company that truly cares about the community we serve and your professional development, apply with Buffalo and see what makes us the #1 disaster restoration company in Montana!
Why Join the Buffalo Herd
Are you looking for a great career in an exciting and growing industry? Are you excited for something new and willing to learn? Buffalo Restoration is searching for individuals to join our Buffalo herd. We are invested in training our team members and building a career for you. We offer an on-the-job training program and will help you become certified. We combine hard work, industry best practices, fun, and technology to make it feel like home again for our customers.
At Buffalo Restoration, we do a few different things, small in scale, but that has seemed to make a difference to our team. Such as each Friday, we will cook food for everyone toward the end of the day so that as everyone finishes their day, they know they have food waiting at our shop and will typically stay around and talk to one another a little longer before starting their weekend – it's a way we try and show our appreciation, and as a way of staying connected, as our work schedules and service areas pull us in many different directions, so we may not see each other at all through the week, except for on Friday. We also have a fridge we try and keep stocked with items such as Gatorade or Powerade, water, and popsicles. We also have a subscription to a snack box company that delivers a large snack box around the middle of each month that people can grab from for meetings or while completing paperwork. We also (though not installed yet) will have a basketball hoop in our parking lot starting in May as another way to keep people connected while having fun, and the health benefits are a bonus.
Open Positions