Tuesday October 3, 2017 8:30 AM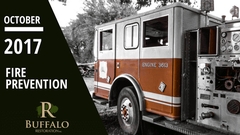 Smoke & Fire Alarms - Safety Tips
In the Home
Install smoke alarms in every bedroom. They should be outside each sleeping area on every level of your home and basement.
Large homes may need extra smoke alarms.
It is best to use interconnected smoke alarms, as all will sound if one goes off.
TEST all smoke alarms at least once a month.
Smoke alarms should be on the ceiling or high up on the wall. Keep them away from the kitchen to reduce false alarms. They should be at least 10 feet from the stove.
People who are hard of hearing or are deaf can use special alarms. These alarms can have strobe lights and bed shakers.
REPLACE all smoke alarms once they reach 10 years old.
In Apartment Buildings
When the fire alarm system activates it will warn residents of danger.
Most manual fire alarm boxes are found within five feet of an exit door.
If there is a fire, pull the manual fire alarm box handle on your way out of the building.
When the system senses smoke or fire, a loud horn or tone will sound off. Everyone must know what this sound means and how to react.
Leave the building right away once you hear the sound of the fire alarm.
Treat every fire alarm as an emergency.
Only use a manual fire alarm box if there is smoke or fire. False alarms are a frequent problem. People may ignore the sound if they hear too many false alarms.
If you want to learn more about fire prevention, contact Buffalo Restoration today at 406-998-1800.