Tuesday March 15, 2022 7:04 AM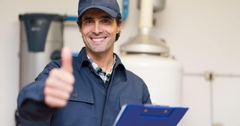 When disaster strikes and you don't know what your next steps are, we can help you get control of your water damage situation. Each water damage scenario is different, so we tailor our solutions to fit you, your home/building, and your immediate needs.
While the details of our process for each scenario may be unique to each case, our overall plan is always the same. These steps include:
1.The Crucial Call
Calling our team of professionals right away when you realize your home or building has water damage is a crucial step in getting started. We are available, day or night, to help you during your emergency.
2.Inspection and Overall Damage Assessment
We will arrive at your home or building as fast as we can to assess the damage that has already happened. We take a thorough account of everything that has been touched or damaged by the water to make sure our removal and repair process covers everything that needs it.
3.Water Removal
Arguably the most important step is making sure all of the water is removed from the area as quickly as possible. This can eliminate any further damage from mold or rot setting in.
4.Dehumidify and Drying Process
When we approach the drying out process for your home, the proper gear and equipment are crucial. Our professional-grade humidifiers can make sure all of the moisture is completely removed from your home to prevent the development of mold or mildew. This can be completely rapidly and productively with our high-grade equipment.
5.Cleaning
After everything is fully dried, we will also need to remove dirt and dust that made its way into your home. Our team will meticulously clean out your space to make sure it is ready to be repaired and restored.
6.Restoration
The final magic happens! Our team works to bring your home back to its original glory! This means carpet, floor, and drywall repair or replacement. We also work directly with your insurance and your damage claim to make sure the process is seamless and stress-free for you and your family.
Give our team of professionals a call today if you have current or past water damage that you need help fixing. We will work together to come up with a plan to get your home back to its former glory so you can continue to live comfortably again.