Monday July 9, 2018 9:25 AM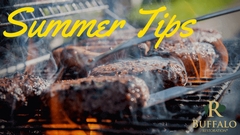 The warm nights, cooking on the grill, and friends and family spending time together in the backyard create delightful memories that last a lifetime. But, hosting outdoor events also means there's an increased risk of home fires.
Here are some simple safety tips and guidelines can help ensure you and your guests stay safe.
Have an adult present at all times when an outdoor fireplace or grill is burning
Use sturdy candle holders that won't tip over easily
Keep anything that can burn, as well as children and pets, at least three feet away from open flames
Use battery-operated flameless candles and solar-powered tiki torches in place of an open flame. Flameless candles come in all colors, shapes and sizes, and many are scented. Flameless candles look and feel like the real ones, and add a beautiful soft glow to any outdoor event.
Outdoor Entertaining Numbers
Outside fireplaces or fire pits caused nearly 3,700 grass and brush fires
Total outdoor patio heater or fire pit injuries has nearly tripled in six years (1,330 to 3,608) from 2006 – 2012
More than half of all candle fires start when things that can burn are too close to the candle
An average of 8,800 home fires involved grills, hibachis, or barbecues each year
In 2012, sparklers, fountains and novelties accounted for 25% of emergency room fireworks-related injuries*
Food on the Grill
Seven out of every 10 adults in the U.S. have a grill or smoker*, which means a lot of delicious meals. But this also means there's an increased risk of home fires.
In 2011 – 2015, fire departments went to an annual average of 9,600 home fires involving grills, hibachis or barbecues per year, including 4,100 structure fires and 5,500 outside or unclassified fires.
July is the peak month for grill fires (17%), including both structure, outdoor or unclassified fires, followed by May (14%), June (14%) and August (13%).
In 2012-2016, an average of 16,600 patients per year went to emergency rooms because of injuries involving grills.** Half (8,200 or 49%) of the injuries were thermal burns.
Children under five accounted for an average of 1,600 or one-third (35%) of the 4,500 thermal non-fire grill burns. These burns typically occurred when someone, often a child, bumped into, touched or fell on the grill, grill part or hot coals.
Gas grills were involved in an average of 7,900 home fires per year, including 3,300 structure fires and 4,700 outdoor fires annually. Leaks or breaks were primarily a problem with gas grills. Twelve percent of gas grill structure fires and 24% of outside gas grill fires were caused by leaks or breaks.
Charcoal or other solid-fueled grills were involved in 1,300 home fires per year, including 600 structure fires and 700 outside fires annually.
Source: NFPA's Research, Data & Analytics Division and NFPA.org
* Hearth, Patio and Barbecue Association (HPBA)
**Consumer Product Safety Commission's National Electronic Injury Surveillance System, queried in April 2016