Thursday November 2, 2017 8:00 AM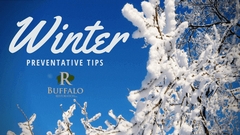 We all know home maintenance is important to protect your investment in your home. By taking time to do the following items, it can help protect your investment and help prevent losses in your home.
Remove snow buildup from around the base of your home. If the temperature warms to above freezing, the snowmelt can drain into window wells and weak places on your foundation.
During extremely cold winter days, check pipes and plumbing fixtures in your home that are not used regularly (second bathrooms, utility room, basements, etc.) to ensure there are no water leaks or cracked pipes.
Be mindful of snow and ice build up on your roof. Ice dams can form and cause damage to your roof and attic space.
Never leave space heater or candles unattended in your home. Remember, when using any type of supplemental heating in your home, read and observe the instructions for use.
With the winter months comes holidays and spending time with family. Keep the following in mind to ensure your holiday is enjoyable, not stressful.
When hanging decorations, be safe on ladders and step stools. Have someone hold the ladder steady while hanging lights in higher places.
Do not overload power outlets with light up decorations. Remember to unplug decorations when they are not in use.
Be observant when cooking your holiday meals. Fires can happen when too many things are going on in the kitchen. If you have a grease fire, turn off the heating source but don't pour water on it – instead try to smother the fire by putting a lid on the pot or pan or pour baking soda or salt on the fire.
Along with these seasonal tips, remember these annual maintenance tips as well:
Have your dryer vent cleaned every one to two years to prevent lint build up in the system. Dryer lint is flammable and buildup can contribute to dryer fires.
Check your hoses and water lines for your dishwasher, washing machine, and ice maker. The hoses can become kinked, cracked, or get small holes in them easily that can lead to water damage in your home. It is recommended to replace hosing with braided, stainless steel flex hosing.
Test all your smoke and carbon monoxide detectors and replace batteries if needed.