Clean crawl spaces also improve home comfort & energy efficiency
A crawl space that's damp and dirty is more than just an eyesore. It causes health, safety, comfort, and home resale problems. This happens because a damp, dirty crawl space creates a favorable environment for mold, mildew, wood rot, insects, and animal pests. Who wants these difficulties right below a home's living space?
The good news is that a nasty crawl space can be transformed into a clean, dry, attractive, and energy-efficient space using the CleanSpace® encapsulation system.
Create a healthy usable space
Prevent rodents, bugs, mold, radon, high humidity, condensation, high energy bills
We provide CleanSpace liner, patented sump pumps, dehumidifiers, sealing exterior vents.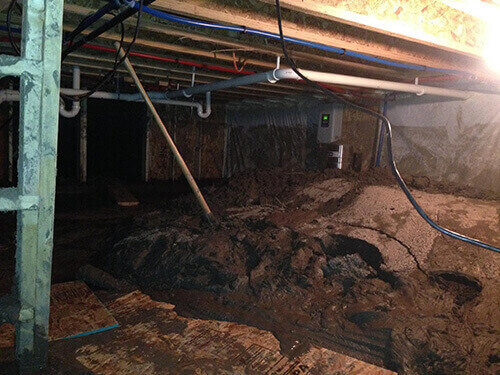 How the CleanSpace® liner works
When the crawl space floor is damp or wet, drainage matting and SmartPipe™ perimeter drain lines can be installed before laying down the CleanSpace® vapor & moisture barrier.
One of the key ingredients in our encapsulation system is the CleanSpace® vapor barrier, a super-durable, 20mil plastic sheet material designed to permanently prevent moisture, outside air, and pests from getting into your crawl space. Your crawl space technician will install CleanSpace® poly over the foundation walls and floor to create a continuous air and moisture barrier.
Depending on conditions in your crawl space, other crawl space products will also be necessary - like crawl space vent covers, insulation, and drainage matting. Don't worry; all these products have been designed to work together, transforming a "problem" crawl space into a clean, energy-efficient space that is no longer scary or hazardous to enter.
Contact Buffalo Restoration for more information or to schedule an appointment for crawl space encapsulation today.